Canyoning in Valsesia Piedmont
Canyoning (known as canyoneering in the U.S.) consists in traveling in canyons using a variety of techniques that may include other outdoor activities such as walking, scrambling, climbing, jumping, abseiling (rapelling), and/or swimming.
Each Canyoning Experience with SESIA RAFTING begins with an introduction to your expert guides, charged to take care of your every need or concern through this unforgettable pulse racing journey. You will be suitably fitted with the highest quality technical equipment ensuring your comfort and safety during your adventure. Once checked and happy, all that left to do is to jump into the water to begin an experience you will remember for many years!
The school supplies wet suits, helmet, life-jacket, jackets. Please bring trekking shoes, a swimming dress, a technical T-shirt and all that you need for the shower.
History of canyoning
The history of canyoning is fairly recent if you think of this activity in the exploration and sports. Alfred Martel, a famous French speleologist, is considered to be the precursor.
Pathfinder of the river depths and groundwater was drawn to the canyon that the river Verdon creates in the calcareous highlands in Provence (France). In the summer of 1905, together with seven companions, the integral drop of the great canyon of Verdon using a kind of raft. It took, for this enterprise, four days of hard toil.
Lucien Briet (who's French too) has dedicated to the exploration of the "Barrancos" Sierra De Guara and other regions in the Spanish Pyrenees. He left us a photographic book published in 1913, with the pictures of his river journeys.
In Italy, the first descents of streams that we know were made in 1958 in Carnia (Friuli). The river gorge "Cosa" was explored by some speleologists from Trieste, in the same period the throat of the river Vinadia was explored by mountaineers of the place. In the following years (from 58 to 61) was navigated the Rio Chill, on the slopes of Mount Cucco and some florentine mountaineers traced the "Botti's orrido". Speleologists from Bologna went down "The Codule" and "Bacu" in the east of Sardinia.
Canyoning was considered as a sport in Italy for about 25 years and is going through a time of great expansion from the mid-90s; new routes are being explored and equipped each year, and in 1998, was born the Association Italiana Canyoning (AIC). Much is still to be done to spread the sport, there are still many unexplored streams yet to be discovered.
In France it has been a popular activity for 30 years. In the spanish Pyrenees instead, it is practiced for more time, so that we can define this country as the birthplace of canyoning.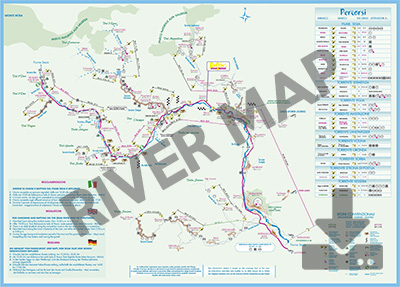 Foto